Redline Cycle Service, Inc.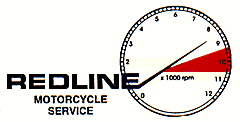 Kawasaki 900/1000 Online Parts Catalog / Main Index
Orders are taken by e-mail : at - jim@redlinecycle.com
Payments taken by PayPal / Money Orders / Checks on domestic orders
Payments are only be taken by PayPal on international orders
We no longer accept Visa - MasterCard - Discover
e-mail - jim@redlinecycle.com
We want to keep you as a Redline customer....... Thanks - Jim @ RedlineCycle
>> For info on how to order or check on parts from us...... Click Here
Click on category headings below for product details..... For a few important details about our catalog: Click Here
Accessories
Air Cleaners
Air Cleaner Box Ducts and Related Parts Click Here ..... For our list of Bikes For Sale
Alternator (AC Generator) & Parts Click Here .... For Old Kaws and other Bikes we've Sold
Batteries / AGM Maintenance - Free Click Here ..... For a look into a KZ engine being rebuilt
Big Bore Piston Kits
Body Sidecovers and Parts
Bolts / Nuts / Washers - (See Hardware Listings)
Brake Parts / Caliper (Info on brake identification in this section)
Brake Master Cylinder Assemblies
Brake Parts / Drum Hardware
Brake Parts / Lines
Brake Parts / Master Cylinder
Brake Parts / Pads & Shoes
Cables ......For all 900& 1000 models **We have thousands of excellent used parts for
Carburetors and Related Parts Kaw 900's and 1000's.....All guaranteed!!
Case Savers / Engine Guards These are not listed in our Online Catalog....
Chain, Sprockets, and Related Parts Just call us toll-free at 877-271-9292
Chainguards
Chassis Electrical Parts > (Main Electrical Parts Index).... New repro wire harnesses now available!!
Clutch Components
Crankcase Vent Filters
Decals / Misc.
Decals & Emblems - Fuel Tank
Decals & Emblems / Sidecover
Engine Covers / New & Used
Engine Gaskets
Engine Guards Send E-Mail to: jim@redlinecycle.com
Engine Oil Seals / O-Rings / Oil Windows
Engine Parts / Internal > (Main Engine Parts Index)......Check out our KZ Engine Rebuild pages....
Engines / Complete & Major Engine Components
We are now in the process of repairing & rebuilding 15 1000cc/1075cc engines for resale - Call for Info -
Exhaust Systems and Related Parts
Fender Eliminator Kits
Fenders
Foot Controls: Pedals / Kicker / Shift Lever & Parts
Footpegs & Related Parts
Front Fork / Steering Head & Related Parts
Fuel Filters
Fuel Injection (KZ1000G - Z-1 Classic) Parts
Fuel Petcocks & Related Parts
Fuel Tank Decals & Emblems
Gas Caps & Related Parts Send E-Mail to: jim@redlinecycle.com
Gaskets / Engine
Grab Bars & Handles - Seat
Handle Levers & Parts
Handlebar Switches
Handlebars / Grips
Hardware - Specialty Fasteners / Chassis
Hardware - Specialty Fasteners / Engine
Headlights & Related Parts
Ignition Coils
Ignition Switches / Locks
Ignition Systems and Parts - Electronic ...Aftermarket and Kawasaki factory ....
Ignition Systems and Parts - Point Ignition
Ignition Wires and Parts
Intake Manifolds and Parts
Kickstarter Send E-Mail to: jim@redlinecycle.com
Locks / Ignition Switches
Meters (speedo/tach) & Related Parts
Mirrors
Oil Coolers & Parts
Oil Filters and Oil Change Hardware
Oil Pressure Switch & Boot
Oil Seals / O-Rings - Engine
Piston Kits - 903cc Stock Overbore
Piston Kits - KZ1000 Drop-In
Reflectors
Rubber Parts - Dampers / Grommets / Mounts
Seats and Related Parts
Shock Absorbers ....... 10% off repro Z-1 / KZ900-1000 shocks
Sidecovers (Body) and Related Parts
Sidecover Decals and Emblems
Speedometers / Tachometers & Related Parts
Sprockets and Related Parts
Stands & Stand Parts
Starter Clutch Parts
Steering Dampers
Swingarms & Related Parts
Tail Lites & Related Parts
Tail Storage Tray
Tail Section
Tires And Related Parts
Tools / Tool Kits & Pouches
Transmission Parts
Turn Signals and Related Parts
Wheels and Related Parts
Wire Harness
Z1-R Specific Parts ........Check out our new "Z1-R Misc." section at this Index... Lots of nice Z1-R parts!!
........We have many parts for Z1-R's not listed.......Call us toll-free at 877-271-9292
If you don't see it here, that doesn't mean we don't have it.... Send E-Mail to: kawparts@redlinecycle.com
or call toll-free at 877-271-9292
For a brief introduction and some comments about our catalog Click Here