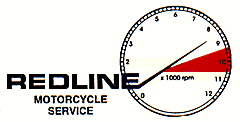 Tuning, Service & Repair
At our current Skokie location, we have limited our service operation in order to concentrate further on our speciality field: The Kawasaki 900 & 1000 motorcycles built between 1973 and 1980. We also sell parts for these bikes throughout the U.S. and worldwide through our Kawasaki Online Parts Catalog on our website.
In 2012, meeting the demands our vintage Kawasaki workload will require further cutbacks in the amount other work that we can do.
Due to our present circumstances, our service priorities are limited to:

1) The 1973 thru 1980 Kawasaki 900's and 1000's
2) Bikes that Redline has sold over the years
3) Other bikes that can be serviced on a time / space availablity basis

We regret that we don't have the time or the resources to service all the bikes that we have in the past, and that we can't handle all the bikes that we are asked to service.

A complete motorcycle service facility, Redline has the ability to service carbureted Harley Davidsons and all Japanese street motorcycles.
Since we do not work on scooters, off-road machines, or snowmobiles, our operation concentrates
on street bikes specifically. All our experience is geared toward this single aspect of motorcycling.
Aside from the basic tools of the trade, we are well equipped with factory special tools - for Harleys
and Japanese bikes. Our services include...tuning, performance tuning and jetting, tires & brakes,
electrical & charging system repair, engine work, and major restorations....and anything else a bike might need.

Tuning...

Our complete tune up includes:
1. Check engine compression
2. Change oil & filter......Change transmission / primary case oil where applicable
3. Adjust valves (where applicable)
4. Set Ignition Timing / All ignition adjustments (where applicable)
5. Service / replace spark plugs, wires, caps as required
6. Adjust cam chain (where applicable)
7, Adjust primary chain (where applicable)
8. Adjust clutch (where applicable)
9. Service air filter
10. Synchronize carburetors (where applicable)
11. Service battery / check charging system
12. Adjust drive chain / belt / or service final shaft drive as required
13. Service cooling system (where applicable)
14. Check brakes for wear / check brake and clutch fluid (where applicable)
15. Check tires for wear / set tire pressure
16. Safety check - lights / brake light / horn / signals
17. Test drive

Our basic parts inventory covers the parts needed to perform the above services to 90% of the Harley and Japanese street bikes on the road....from the 70's to the present.

Performance tuning & Jetting.....

Since the 1970's, Redline Cycle has been performance tuning motorcycles. Exhaust and jetting modifications can be done to suit your particular bike, your riding style, and your budget.
In addition to the exhaust systems we stock, we can quickly order and receive all Screamin' Eagle, Python, Vance & Hines, Muzzy, Yoshimura, and many other exhaust systems......and can jet using various kits or by employing methods we have been using and refining for 25 years. However, work on any bikes outside our specialty field is available on a limited basis only.





Tires & Brakes...

Redline is fully equipped to replace tires on almost any bike. Cycles that are brought in for tire replacement are usually completed within 1 day. The servicing of tires and brakes is most cost-effectively done at the same time. Brakes are checked on cycles brought in for tire replacement at the time they are dropped off. This speeds up the servicing of our customers' bikes, and gives the customer a better idea of what his bike needs up front.
We carry a full line of Dunlop tires, covering applications for most Harley and Japanese bikes. Tires we don't have in stock can usually be ordered in within 2 days. A full line of EBC brake pads is also kept in stock.

We have a long-standing policy of free tire mounting & balancing when you buy new tires from us and bring in your tubeless wheels, off the bike, for installation. .........We charge $10.00 per wheel for mounting our tires on mag wheels that require tubes, and $15.00 per wheel for mounting our tires on spoke rims........

We don 't install customer supplied tires on any motorcycle.....we only install customer supplied tires on wheels brought in off the bike.

We do not install tires on any rims other than OEM factory........ We make exceptions to this regarding mounting tires on Lester rims, and certain other aftermarket rims for the Kawasaki 900's and 1000's that we specialize in.......





Electrical / Charging System Diagnosis....

Redline Cycle has a long established reputation for expertise in troubleshooting charging system and electrical problems on all motorcycles. We often repair bikes that have been through many other shops, and left with the same problem.
We have a large inventory of both new and fully guaranteed used electrical system parts....speeding up the diagnostics, and often saving serious money for the repairs.





Engine Work.....

We take a lot of pride in the engine work we do......whether bone stock or high-performance. We do all our own valve work, and have excellent sources for cylinder sleeving and boring, re-surfacing, and welding.
Engine finishing work includes bead blasting, painting, chroming, polishing, and powder coating.
Our engines have a national reputation to run excellent.....and look as good as they run. We aim to maintain that standard.





Restorations.....

We now only have the resources to do major restorations on the 1973 thru 1980 Kawasaki 900's and 1000's.
Frame-up restorations have been one of our specialties since the business started in 1976. All aspects of motorcycle service play a role in a major restoration.
Bikes are taken down to the bare frame, and every part is either replaced, repaired, or re-finished.
The end result, upgrading parts along the way, is a motorcycle that, in many respects, is better than new.
Call us to find out if your bike would be a good base for a restoration.



Skokie, IL USA
Phone: (847)675-2020 Fax: (847)675-2027 Toll Free: (877)271-9292
E-Mail Redline Cycle