Redline Cycle Service, Inc.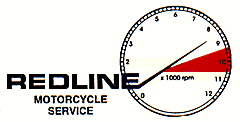 Any item shipped U.S. Mail / UPS to anywhere in the world
Drive Chains
Some info on the difference between o-ring and non o-ring chains appears lower on this page....
For all 1973 to 1980 900 & 1000 models......

630 X 92 link drive chains...... (Other lengths for special applications in stock).....

Top: O-ring chain comes with clip-type and rivet type master links...... $129.95

Bottom: Non o-ring chain made of the same strength materials without o-ring seals......Comes with clip-type master link........
$93.95

In Stock at Redline Cycle
We stock two types of drive chains for the Kawasaki 900's and 1000's: O-Ring type and non O-ring.....
And we're often asked...."What's the difference between them"......
Well the difference in price is certainly obvious, but beyond that.....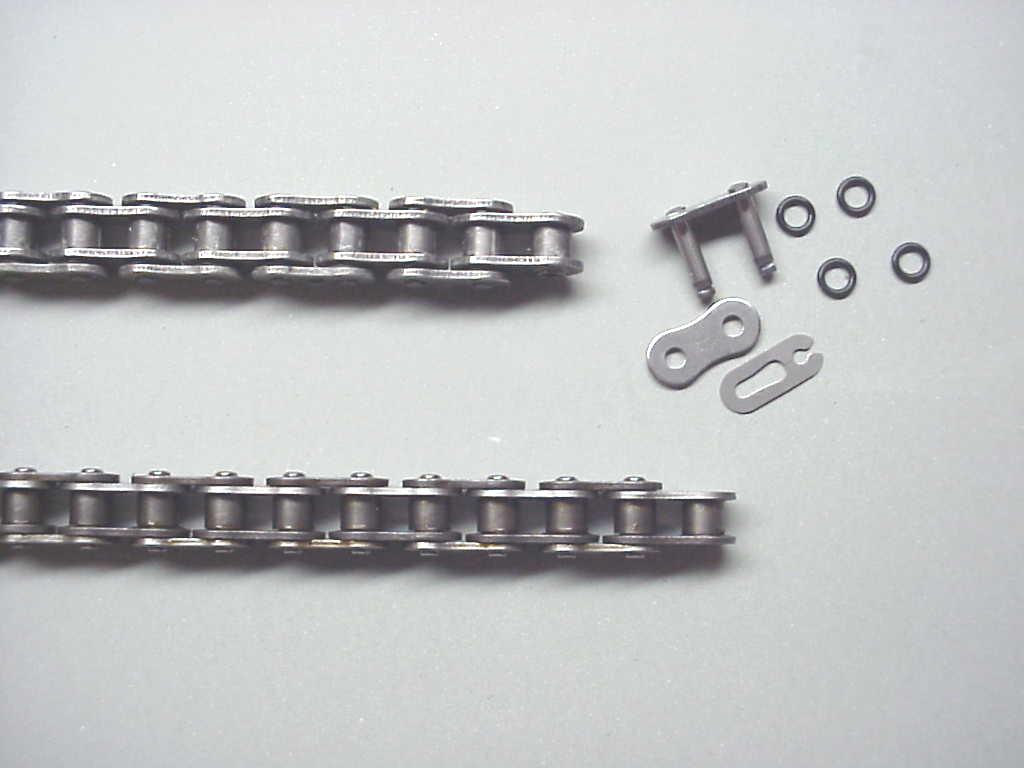 The basic materials used in these two chains are nearly identical.....Very strong stuff.....
In the O-ring type chain at the top, a sealing o-ring is in place between each chain
roller and the sideplate. This seal keeps the initial lubrication within the roller intact
longer, but more importantly it keeps out road grit and moisture from penetrating
the chain rollers. As a result, the o-ring chain needs less cleaning, less external lubing,
and will be more forgiving regarding maintenance......An o-ring chain will
outlast a non o-ring chain by 50 to 100 percent, and require less attention doing it.
For all 1973 thru 1980 900 & 1000 models ....... Tired of looking at those corroded chain adjusters?

Kawasaki OEM chain adjusters and rear axle parts ......

Chain Adjusters (2 per bike) $18.00 each

Rear axle Castle nut $7.49 each

Rear axle washer $6.49 each

Chain adjuster bolt & nut set (2 per bike) $3.50 each
Note: The Kawasaki OEM adjuster bolts no longer
come with the pointed ends, and we sell a
stronger 10mm bolt which we bevel for you.

In Stock at Redline Cycle



Redline Cycle Service, Inc.
Skokie, IL, USA
Since 1976
Phone: (847)675-2020 Fax: (847)675-2027 Toll Free: (877)271-9292