Redline Cycle Service, Inc.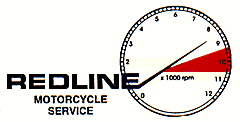 Our Location
Redline Cycle is located in Skokie, Illinois....in the near northern Chicago suburbs. Our address is:
Redline Cycle Service, Inc. 8039 N. Lawndale Ave. Skokie, IL 60076 USA
We have moved from our 20 year location on Lincoln Ave. to this new Skokie location......Please call for info.
Please call ahead when coming to our shop. We have limited hours during the week, which often change.
Please also be aware that we only take in bikes for service on a pre-arranged, appointment basis.
Our new site is one mile east and 1/2 mile south of Interstate 94 ( the Edens Expressway) at the Dempster East exit, and 5 miles east of Interstate 294 (the Tri-State Tollway). Both 94 and 294 have exits at Dempster St., which runs east/west one mile north of our new shop. Lake Michigan is 3 miles east of us.
O'hare airport is 20 minutes from us.....and we are about a half-hour drive north of the downtown Chicago area.
Public transportation from the downtown Chicago area is available to within walking distance of our shop via bus and elevated train.

Phone: (847)675-2020 Fax: (847)675-2027 Toll Free: (877)271-9292