Redline Cycle Service, Inc.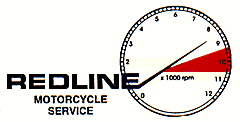 Hours of Operation

We can be contacted by phone at 847-675-2020 locally,
or toll-free at 877-271-9292 (within the U.S.A.)........
or by e-mail at jim@redlinecycle.com
If you don't reach us......
A message on our answering machine will give the days and times we can be reached by phone.....
You can also leave a message, and we will return
your call to take your order or provide you with info....
Please leave us your daytime / best phone number .....
A parts order can be placed by e-mailing us at jim@redlinecycle.com......
In your e-mail. please provide us with your daytime / best
phone number - We will contact you to complete your order.....
We have no designated walk-in hours. Please call ahead if you are coming in,
or e-mail us a day ahead of coming in at jim@redlinecycle.com -
If you come in unexpecedly, we may not be able to help you.....
We service motorcycles on an appointment-only basis.
While we are capable of servicing most street bikes, we primarily
service the Kawasaki 900 & 1000 models from 1973 thru 1980...
Other bikes / jobs are taken in on a time-available basis.
You can also e-mail us when closed at: jim@redlinecycle.com



Phone: (847)675-2020 Fax: (847)675-2027 Toll Free: (877)271-9292
E-Mail Redline Cycle