Redline Cycle Service, Inc.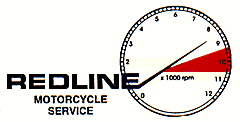 Body Sidecovers Parts / Hardware

Those aftermarket sidecovers have a bad reputation for being cheesy....but they don't have to be.......
Dress them up with our mounting hardware. Chrome allen screws and chrome flat washers give those covers some class, and the rubber washers protect the paint and retain the washer on the screw.

With a good paint job, nice hardware, and the right Emblems / Decals, those Aftermarket Sidecovers can look better than originals!!

In Stock at Redline Cycle

Set of 6 complete NLA

Check out the aftermarket covers below.......


We no longer sell these parts > Left up for refernce only....




>>>>>>>>>>>
New OEM Kaw side cover grommets for mounting original or aftermarket Kaw body sidecovers.
Get rid of those old grommets before you lose a sidecover on the road.....or before you lose another one.
6 required per bike / all models.

In Stock at Redline Cycle

$2.99 ea.
>>>>>>>>>>>>>> .
For 1978 and 1980 KZ1000D / Z1-R models.......

Lower left / right sidecover grommets (shown at far right in pic) are unique to the Z1-R's.......

$8.99 each

Limited Availability
E-Mail us at > jim@redlinecycle.com